Cancelled! We try a different date in 2014!
Special thanks to James Peters for so much inspirations and entertainment, all these years! And hopefully many more;-)! That motivated me to bring this sport other closer! At Frank Sommer, without which it would never have been such a close link between this fringe sport athletes!
The Soul of Distance Skateboarding
Fränky Sommer heart of  LongboardZ
Internationals rider welcome!
50Km by Germany's last industrial free zone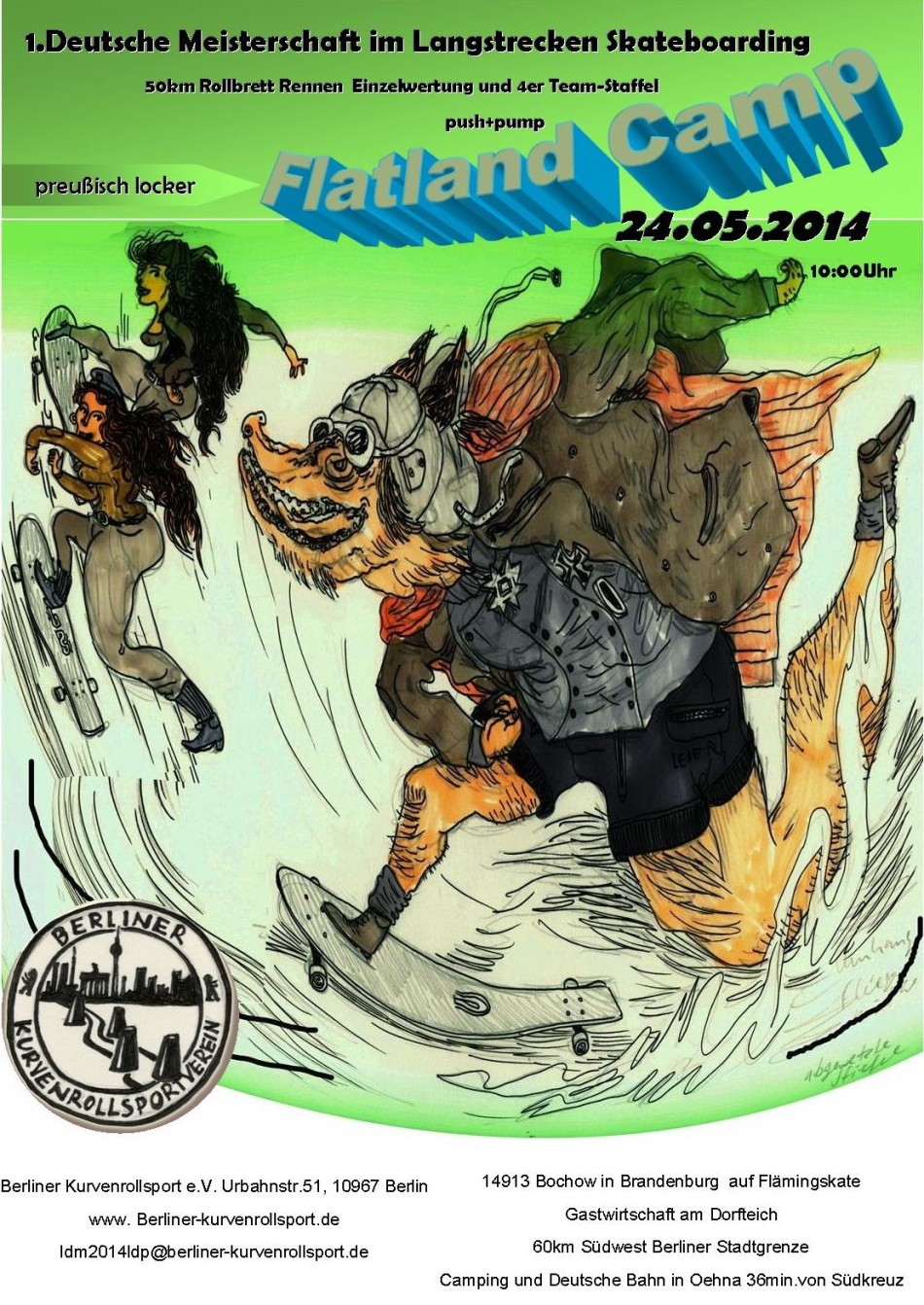 Applications are done here on the webboard. You'll get a banking account once you applied where you are highly appreciated to transfer 15,-€ to. Code word: "preussisch locker".
The money will be cleared against the camping fee and reduced from your personal bill in the end.
Those of you who don't stay at the camping ground for whatever reasons are thanked dearly for the tiny donation.
Participant numbers are limited to 50 people. The application fee can be assigned to others.
Under aged participants must have a written permission from their parents.
May 21st:
Applications can be done on our website: www.berliner-kurvenrollsport.de
May 16th:
Application deadline! Will be reached earlier as soon as 50 participants apply!
Applications without money transfer will be given to other participants!
March 23rd:
Opening party in Oehna and Schnitzel at Witte's restaurant!
May 24th:
Start and finish in Bochow (Niedergörsdorf)
09:00 a.m. Bib numbers are given to participants
09:30 a.m. Rider's meeting
10:00 a.m. Start for 50 km and relay team riders
15:00 p.m. Victory ceremony and PARTY!
May 25th:
Around 10:00 a.m. we will have an easy ride to Kloster Zinna!
Call-Up:
Sponsors, support and help in any way are very welcomed!
Dear friends of Longboarding!
For this year's long distance competition we decided to keep it real and simple, or "preussisch locker" as we say in Berlin! Longboard events are still charming FunFamilyHappenings. You still get the opportunity to compete with the scene's best drivers, which isn't going to stay that way forever. Races and drivers are becoming more and more professionalized and athleticly advanced. In the downhill circus for instance you can hardly compete unless you are very focused and train very hard. This is most likely what will happen to Long Distance Skateboarding one day!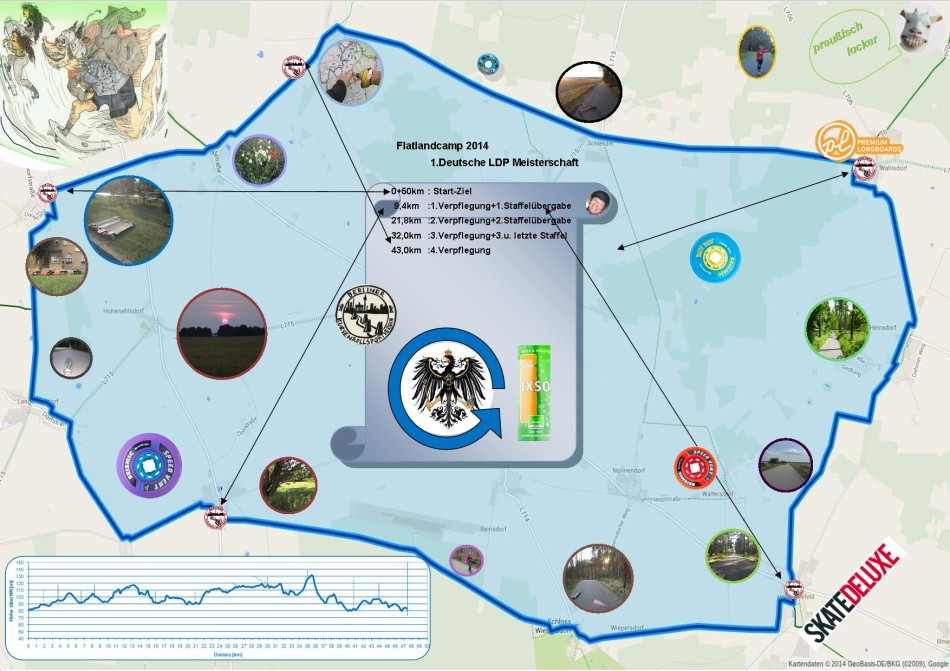 Track including levels of track, catering and relay stops.
So we are enormously proud and happy to being able to bring together all kinds of Longboarding fans, even from quite different levels! But all those of you who aren't really used to ride longer tracks please keep in mind, that you should practice riding before the race. The track is not that easy to ride, even when you go in relay teams. There a downhill parts in every section and the upward parts aren't an easy ride, too! And to those who plan to go all 50 km, be aware that the track is a tough one if you go all the way!
The catering stops will be placed shortly before crossing roads so everyone is carefully watching out for cars etc. Please do not only rely on the guards and advisers but make sure you stop at crossing roads and watch out for bikers, inliners and other people on the track!
§§ Prussian Rules §§
§ 1
Prikel Pit is in command and his advises have to be followed! (No joking!)
1.1
The advices of the guards have to be followed.
§ 2
Helmets are required!
Protectors are highly recommended, especially between stops 3 and 4.
2.1
(Bib) Numbers have to be visible!
§ 3
It is not allowed to choose shorter tracks, to be pulled by another vehicle or to use slipstream!
3.1
Kahuna Sticks allowed. No motors or anything that makes your board faster or go by itself is allowed.
3.2
Breakhelping systems are allowed as long as they are no safety issue for others.
§ 4
The ones in front go first!
4.1
If you want to pass another driver, you scream loudly 'Left' or 'Right' to show which side you choose. The one that is passed by reacts by waving the hand.
§ 5
Teams can be fixed until one hour before the race (May 24th, 9:00 a.m.)
5.1
Teams have to be built by 4 people. Mixed teams allowed. Under aged participants must have a written permission by their parents!
5.2
Teams are allowed to have a driver who goes all 50 km on the first section of the track.
5.3
The baton is a rubber bracelet that has to be passed on and has to be kept until you reach the finish line!
§ 6
Prikel Pit is commander in chief.
6.1
Prikel cannot be passed when riding in front of you!
And please hold on to sanity and reason. Thank you.